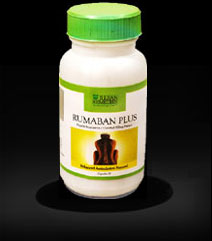 RUMABAN PLUS


Effective Anti-Inflammatory analgesic.

Dosage
2 capsules 3 times daily for 15 days and 1 capsule 2 times a day for 45 days as a maintenance dosage


Indication
Best for Osteoarthritis, acute rheumatic disorders (pain, swelling and stiffness of joints), in sciatica, tendonitis, myoneuralgia, Arthralgia related to osteoarthritis, cervical and lumbar spondylitis and lumbago, Chronic rheumatic inflammatory and degenerative diseases. Rumaban Plus gives relief from Cervical and Lumbar Spondylitis.

Presentation
Rumaban Plus available in a pack size of 30 capsules.