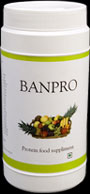 BANPRO
Whole food energizer
Whole food energizer for the complete family

Directions for use:
As a dietary supplement add 2 tablespoonfuls of Banpro to luke warm milk (100ml) or water (50ml).Stir well to dissolve. Mixes easily, no blender required.

Indication
Supplies the needed multivitamins and minerals, Irradiates tiredness and improves general health.

Presentation
Bottles of 200gm.